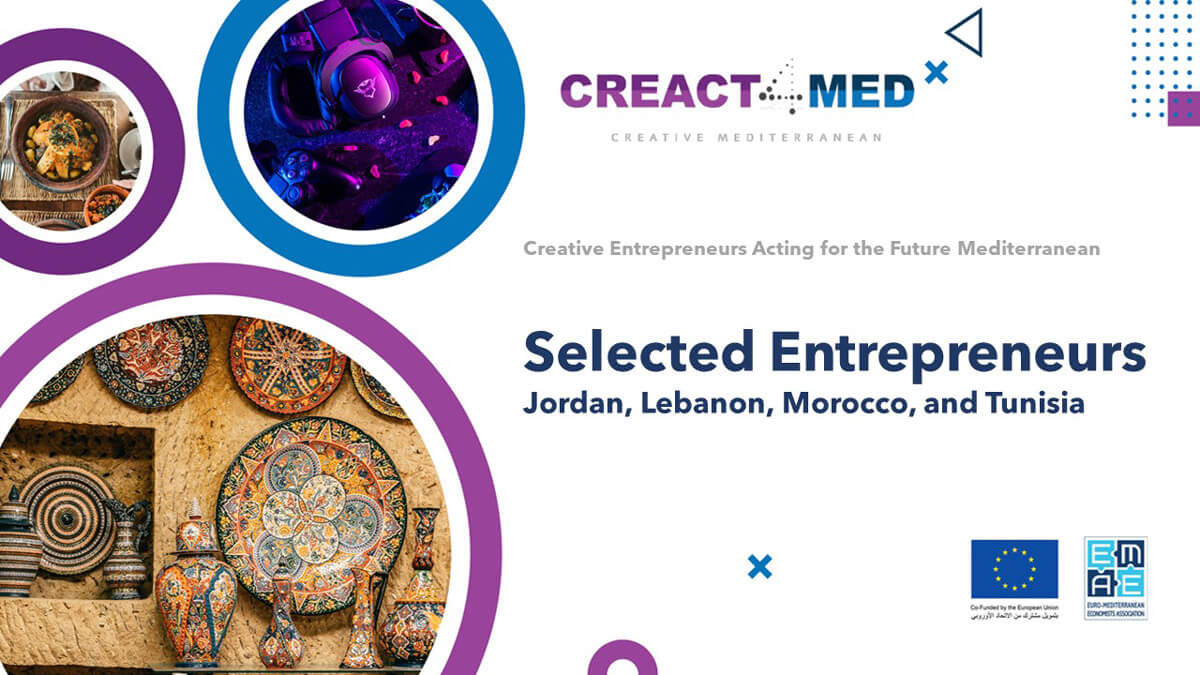 Posted on November 23, 2022
After the competitive CREACT4MED pitch sessions for the countries Jordan, Lebanon Morocco, and Tunisia, we are happy to announce the winners of each country call! Before proceeding to the announcement, we would like to take this opportunity to thank all those who took part in the call and look forward to seeing all business proposals thrive to contribute to a flourishing CCI MENA region.
The Call for Cultural and Creative Business Proposals aimed to support CCI entrepreneurs, particularly women and young people, build competitive businesses and relevant connection in Egypt, Jordan, Lebanon, Morocco, Palestine, and Tunisia. After a rigorous selection process, candidates were invited to pitch their business proposals to a panel of experts. The panel then followed a process to award the sub-grant to the best proposals so that they can kickstart their CCI businesses.
Jordan
GIOIA – Gioia is a Jordanian footwear brand that incorporates handmade art inspired by regional heritage.
Puppets World – Puppets World is the first and only Jordanian company that raises children's awareness and develops their abilities through puppets and live theatrical puppet shows blending culture, creativity, art, and fun.
Talawen – Talawen provides interactive and comprehensive educational tools for teaching soft skills to children and adolescents through art, using engaging educational curricula written by specialists and converted into artistic exercises.
Viavii – Viavii is an online platform that connects travelers with local hosts to have them explore, book, and pay for authentic and local in-destination experiences
Lebanon
Cezar Projects – Cezar's projects promotes and implements a genuine concept of sustainable and rural tourism, in addition to innovative and sustainable agriculture in Lebanon.
Climberspace – Climberspace is a world class climbing and outdoor brand coming from and sharing the beauties of Lebanon and the Middle East.
Mlouk Productions – Mlouk Productions is a Media Production company based in Lebanon contributing to evolving storytelling, by engaging and growing further in the VFX (visual effects) field.
Yayy TapToSee – Yayy focuses on the development and publishing of Casual and Hyper-Casual mobile games by using location based augmented reality to visualize points of interest and local products.
Morocco
Cré Artisant – Cré Artisant creates leather goods that value the Moroccan artisanal heritage.
Felicity – Felicity is a boutique, an educational platform and a marketplace allowing chocolate producers of the network to thrive.
Help Mariage – Help Mariage is an application to help future brides and grooms to solve the headache of organizing their wedding by putting everything in their pocket with smart tools
H Kids – Makes the existing intelligent furniture existing, accessible, available, to facilitate the for parents and children.
Tunisia
Digital Cultural eXperience – A Tunisian Startup valuing culture using virtual and augmented reality.
Klink – Klink is a booking platform connecting event organisers and artists in Tunisia.
Maft Studios – Maft is an e-commerce platform that connects designers with consumers in Tunisia and the MENA region, in the fashion, design and handicrafts.
The Virtual Art Gallery – The Virtual Art Gallery is a digital platform for creation and reproduction, hosting 3D virtual tours in 360° and VR (Virtual Reality), specialized in visual art exhibition spaces.
A maximum of €15,000 will be awarded to each of these 4 selected start-ups or MSMEs in each of the target countries. In addition to the funding, sub-grant beneficiaries will benefit from the acceleration and incubation services implemented by CREACT4MED incubators across the partner countries.
The incubators for each country are TTi Innovation for Jordan, Nucleus Ventures for Lebanon, LaStartUpStation for Morocco, and Minassa – INCO Tunisie for Tunisia. You can learn more about them and the incubators for Egypt, Nilepreneurs, and Palestine, Asala, here.
CREACT4MED is a project funded by the EU through the EuropeAid Programme, which aims to strengthen businesses with the Cultural and Creative Industries (CCIs). It seeks to support entrepreneurs, start-ups and SMEs, create jobs, and foster sustainable economic growth in the Southern Mediterranean, with a particular focus on young people and women.
It is led by Euro-Mediterranean Economists Association (EMEA) (Coordinator), with the partners Institute of Entrepreneurship Development (iED), European Institute of the Mediterranean (IEMed), Union of Mediterranean Confederations of Enterprises (BUSINESSMED), Redstart Tunisia, Confédération méditerranéenne pour le développement (MED Confederation), Beyond Group, Libera Università Maria SS. Assunta (LUMSA Università), Association of Organisations of Mediterranean Businesswomen (AFAEMME), Positive Agenda Advisory, and Womenpreneur.