Raising awareness of the importance, value creation and social impact of creative and cultural industries (CCIs) is a key aspect of CREACT4MED. The project brings together key CCI actors including business support organisations (BSOs), the private sector, financial institutions, academia, public authorities, and NGOs to foster a CCI community.
As part of this pillar, the CREACT4MED holds annual conferences, which this year was held on the 28th and 29th November 2022 in Barcelona. It strengthened links between identified stakeholders to created a productive and sustainable enabling environment for budding cultural and creative entrepreneurs. Click below to read more about the Annual Conferences:
To allow for continued engagement within the CREACT community, the project runs an online platform where members can share experiences and forge partnerships.
The final goal of the CREACT4MED project is to build a Hub to facilitate the exchange of ideas and opportunities among the different CCI stakeholders of the Mediterranean region. To do so, the Project Consortium, particularly IEMed, will organize a series of networking events aimed at strengthening the synergies among CCI actors. The events will be co-organised in collaboration with local stakeholders so to enhance the impact of these initiatives at the regional level. Within this activity, the project will hold social dialogues and seminars to identify obstacles and opportunities for a prosperous CCI in the region with a focus on how the private sector can be a catalyst for the CCI.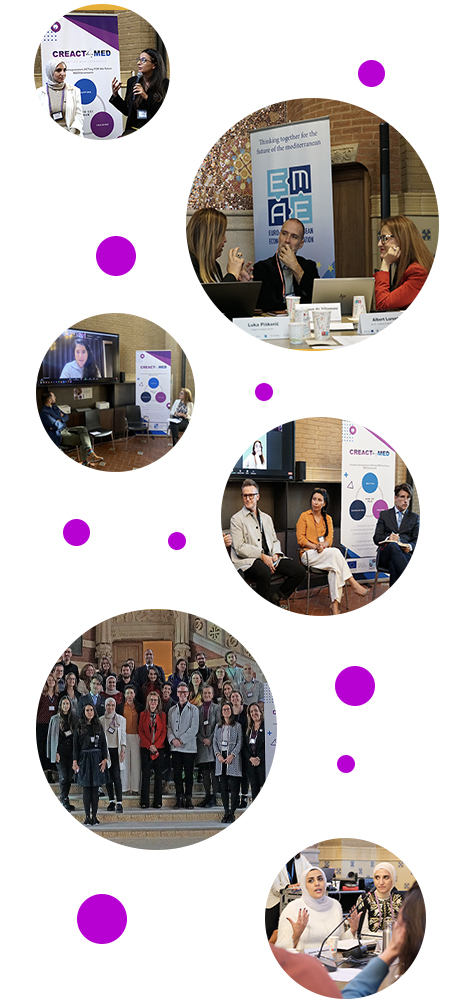 Newsletters
The CREACT4MED project releases 6 monthly newsletters on its activities and progress. Read them here