* This call is now closed *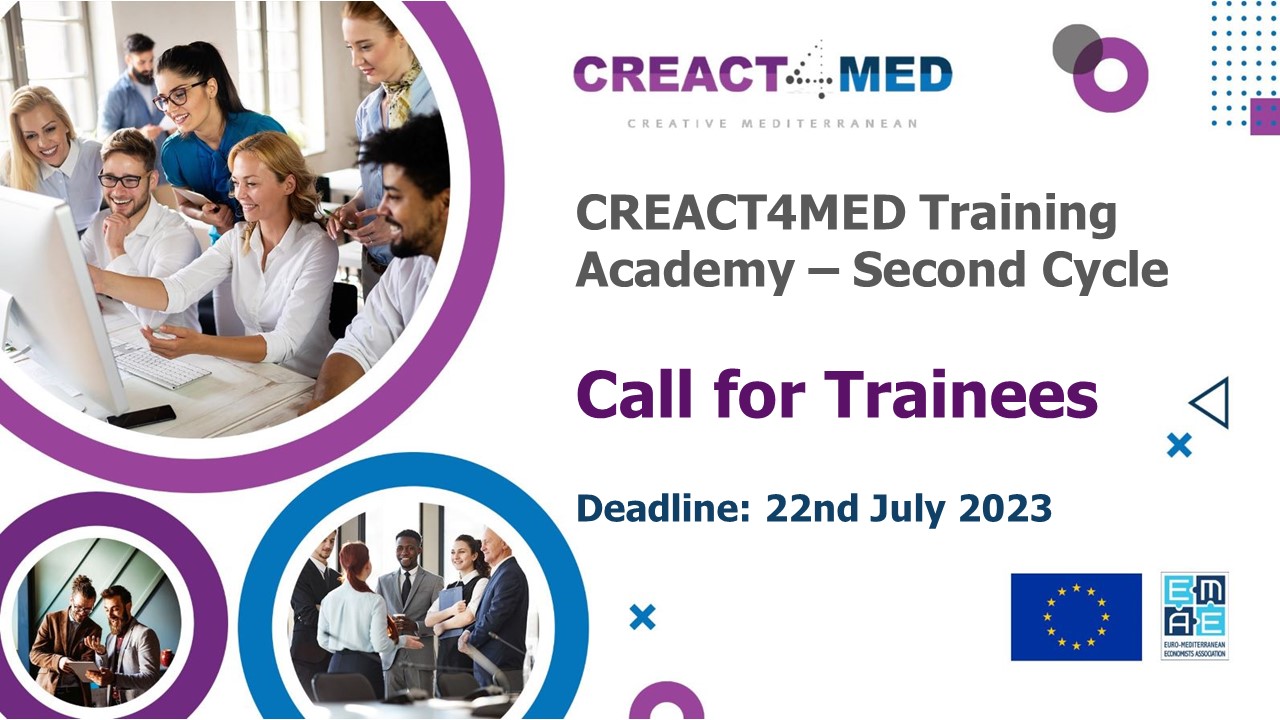 Applications are now open for CREACT4MED's training academy for entrepreneurs within the cultural and creative industries (CCI). This free training course is designed to help entrepreneurs, startups and MSMEs navigate the high-risk early stages of business development and strengthen CCI businesses in the Mediterranean, ultimately contributing to sustainable economic development in the region.
Guide participants to create a comprehensive business plan encompassing the content covered in the , learning modules and assessments;
Explain business, legal, financial and marketing aspects of starting or running a successful CCI business;
Provide participants with a comprehensive overview of the work processes of cultural and creative products and services from an entrepreneurial perspective;
Increase participants' understanding of dynamic strategies for navigating a highly competitive industry;
Establish a regional network of cultural and creative players in the Mediterranean and Europe to facilitate exchanges and cooperation between projects and participants; and
Enhance employability and entrepreneurship prospects for young people and women.
To be eligible to apply for the CREACT4MED training programme, you must:
Be a budding or established creative entrepreneur active in the cultural and creative industries
Be based or registered in a Southern Mediterranean country (Algeria, Egypt, Israel, Jordan, Lebanon, Libya, Morocco, Palestine, Syria or Tunisia)
Have a good command of Arabic and basic knowledge of English
Applicants will be selected to participate in the training by a panel based on the following criteria:
Demonstrated interest or experience in CCI entrepreneurship
Demonstrated basic command of English
Desired: previous experience in projects with a positive impact on either employment, women, or youth inclusion
Young people (under 35) and women are especially encouraged to apply.
Participation in the training is free.
Only completed and applications fulfilling the requirements will be selected to attend the training programme, which will be conducted via iED's Online Academy.
The CREACT4MED training programme comprises 40 learning hours and adopts a blended learning approach combining online modules and live sessions:
Live sessions will take place in Arabic every Thursday from 11 September to 12 October 2023 at 5-7pm CET, and participation in 80% of these sessions will be mandatory in order to receive a certificate of participation.
The material of online modules will be available in English, French and Arabic and will be accessible from 11 September to 11 November 2023.
Application form: https://form.jotform.com/230794216618359
Deadline for Applications: 22nd July 2023
CREACT4MED is a project funded by the EU through the EuropeAid Programme, which aims to strengthen businesses with the Cultural and Creative Industries (CCIs). It seeks to support entrepreneurs, start-ups and SMEs, create jobs, and foster sustainable economic growth in the Southern Mediterranean, with a particular focus on young people and women.
CREACT4MED mission and goals:
Boost CCI businesses and entrepreneurship in the Southern Mediterranean, increasing the capacity of CCI to attract investment, create jobs and foster inclusive economic growth.
Empower current and potential entrepreneurs, in particular young people and women, to start or grow CCI businesses through tailored training and financing opportunities.
Establish a regional CCI hub to bring together actors from North Africa, the Middle East and Europe, strengthening networking, exchanges and cooperation in the sector across the Mediterranean.
CREACT4MED is led by the Euro-Mediterranean Economists Association (EMEA) with the following partners: The European Institute of the Mediterranean (IEMED), the Union of Mediterranean Confederations of Enterprises (BUSINESSMED), the Institute of Entrepreneurship Development (IED), Redstart Tunisie, and associates: MED Confederation, Beyond Group, LUMSA University, the Federation of Mediterranean Businesswomen Associations (AFAEMME) Positive Agenda Advisory, and Womenpreneur.