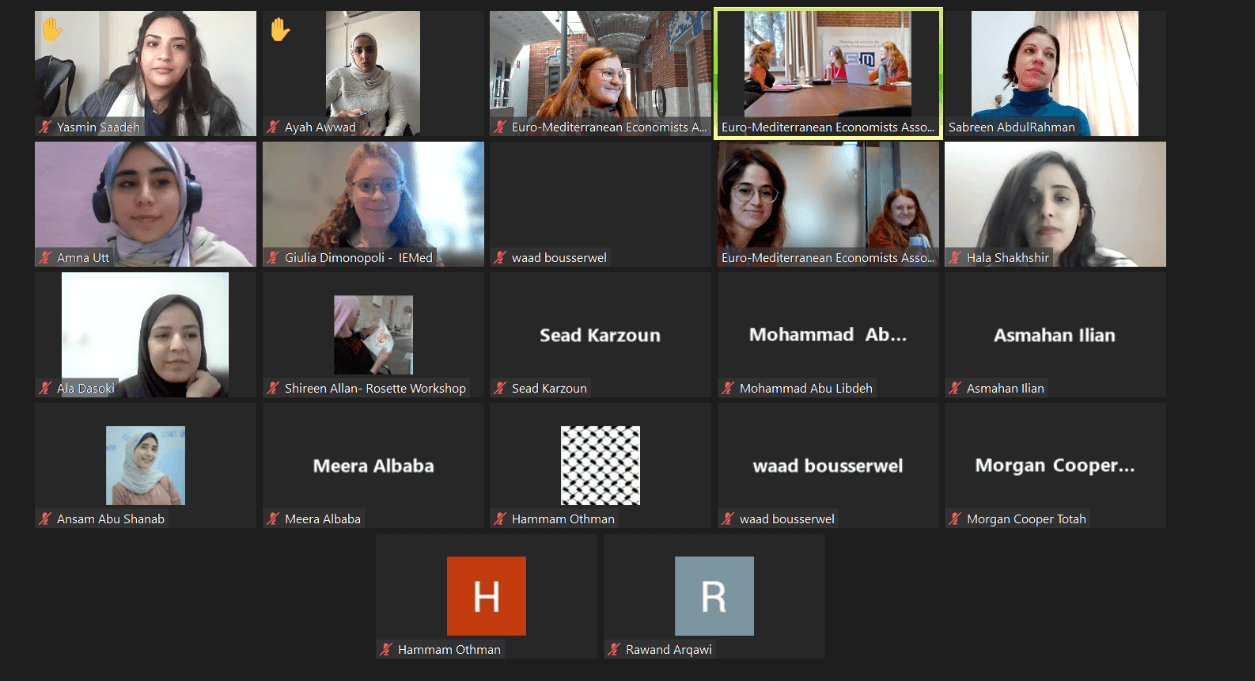 Posted on February 5, 2023
CREACT4MED holds its final pitch session following the call for cultural and creative business proposals. The call for subgrants aims to support CCI entrepreneurs, particularly women and young people, build competitive businesses and relevant connection in Egypt, Jordan, Lebanon, Morocco, Palestine, and Tunisia. The selected entrepreneurs were required to pitch their business ideas to a panel of multidisciplinary jury members. The final session was held for entrepreneurs in Palestine. Each start-up had 6 minutes to present their business proposal, followed by 6 minutes of questions and answers.
Successful proposals in the CREACT programme will be awarded a maximum of €15,000 in each of the target countries. In addition to the funding, sub-grant beneficiaries will also benefit from the acceleration and incubation services implemented by CREACT4MED incubators across the partner countries.
The pitch session for Palestine was held on the 30th January 2023 with the following projects: The Other Face of Gaza, Rosette Workshop, Atabet Fann for Arts Media and Training, Udulele, Meera Adnan, Asala Pieces for Jewelry and Accessories, Fragments Theatre, Askdar for Culture and Arts, Handmade Palestinc, and Talleh Cultural Centre.
All proposals were of outstanding quality requiring careful and considered evaluation by the jury. On behalf of EMEA and the CREACT4MED project consortium, we would like to thank all participants and jury members for their participation. Stay tuned to the CREACT channels as we will shortly hold the pitch session for Palestinian entrepreneurs and announce the winners of the sub-grant call in Egypt.
CREACT4MED is a project funded by the EU through the EuropeAid Programme, and seeks to strengthen CCI ecosystems in the MENA region and unleash the full potential of CCI to create empowered and flourishing societies. It aims to support entrepreneurs, start-ups and SMEs, create jobs, and foster sustainable economic growth in the Southern Mediterranean, with a particular focus on young people and women.
It is led by Euro-Mediterranean Economists Association (EMEA) (Coordinator), with the partners Institute of Entrepreneurship Development (iED), European Institute of the Mediterranean (IEMed), Union of Mediterranean Confederations of Enterprises (BUSINESSMED), Redstart Tunisia, Confédération méditerranéenne pour le développement (MED Confederation), Beyond Group, Libera Università Maria SS. Assunta (LUMSA Università), Association of Organisations of Mediterranean Businesswomen (AFAEMME), Positive Agenda Advisory, and Womenpreneur.