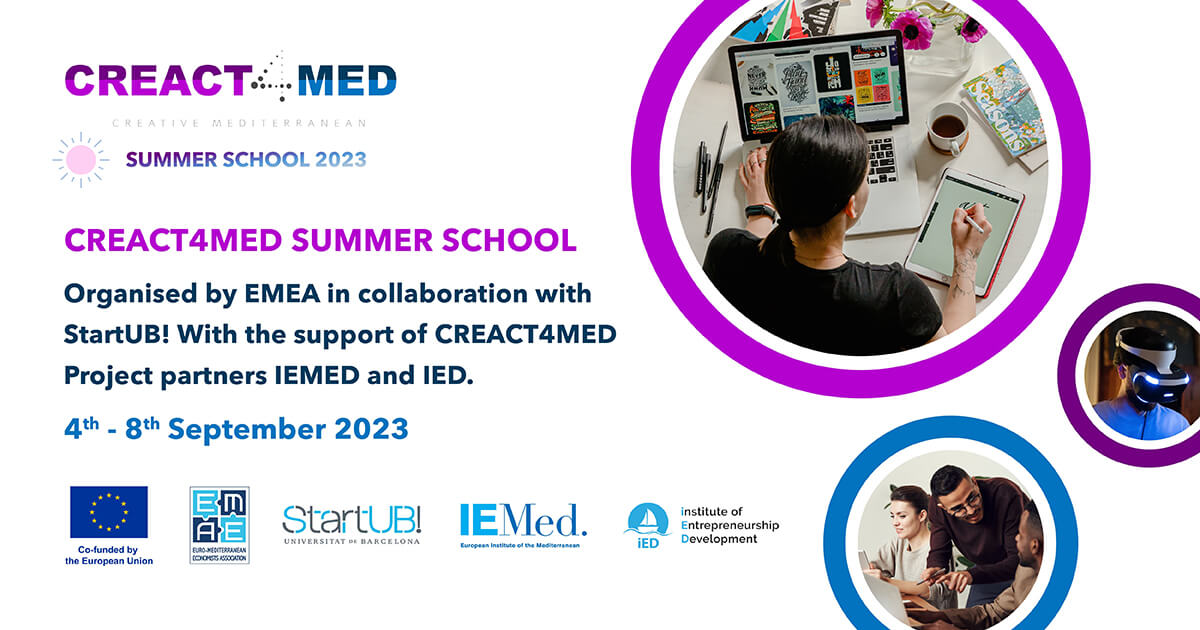 Posted on August 31, 2023
The CREACT4MED Summer School 2023 will take place this September 4th – 8th in Barcelona. This week long intensive experience features trainings, workshops and panel session on a range of entrepreneurship and creativity skills such as Story Telling for Technology, Digital Marketing, and Financing for Entrepreneurs, for the 24 funded projects selected under CREACT4MED's subgranting scheme.
During the summer school, the entrepreneurs will also benefit from personalised coaching sessions where they are matched with experts from many fields. These sessions provide the opportunity for the entrepreneurs to strengthen their work plans in a 1-1 scenario to bolster their businesses in the Mediterranean.
Integrated into this dynamic week is the EU-Southern Neighbourhood Country Dialogue and Workshop focussing on Identifying & Addressing Challenges in the Cultural and Creative Industries. This session is especially designed for the CREACT4MED sub-grant beneficiaries and actors from the Spanish cultural & creative industries. This workshop will foster networking, collaboration and innovative problem-solving among participants, highlighting the power of co-creation. Beyond the Dialogue and Workshop, the entrepreneurs will have the opportunity to take part in several networking sessions and B2B meetings, including the Regional Alumni Network Event.
Finally, taking advantage of the incredible cultural and creative scene Barcelona has to offer, the entrepreneurs will delve into the buzzing cultural zones of the city such as 22@, the Caixa Forum and the Gothic and Born Districts.
The Summer School is organised by the CREACT4MED lead partner, the Euro-Mediterranean Economists Association (EMEA) in collaboration with StartUB!, and with the support of the European Institute of the Mediterranean (IEMED) and the Institute of Entrepreneurship Development (IED).