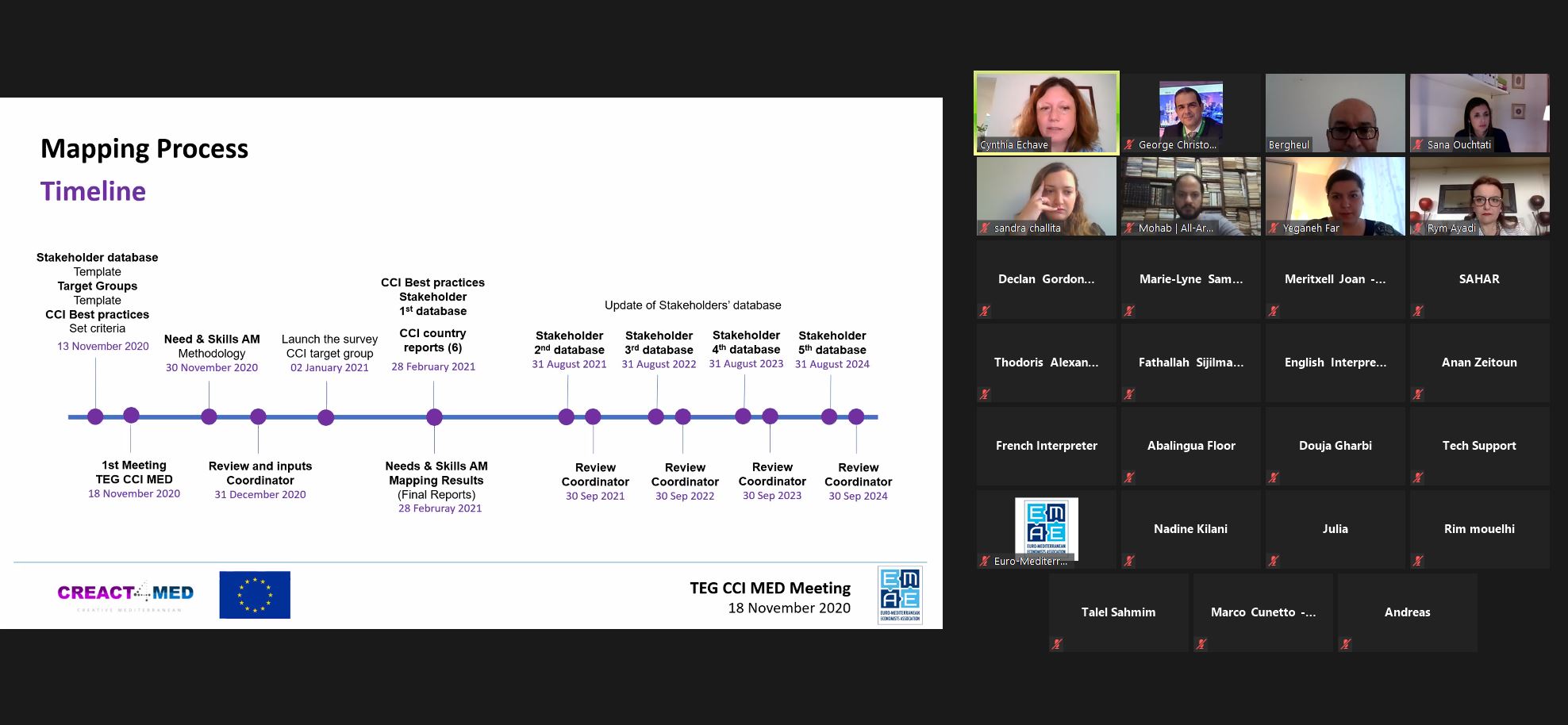 Posted on November 19, 2020
On November 18th, Experts and Observers, members of the Technical Experts Group on Culture and Creative Industries (TEG CCI MED) in the Mediterranean set- up by CREAD4MED project, met virtually for the first time to exchange on the current status of the CCI and support the mapping exercise of the Cultural and Creative ecosystem in the region.
The TEG CCI MED brings together 25 experts from across the region with different backgrounds including economics, business development, entrepreneurship, employment promotion and Cultural and Creative Industries (CCI). The purpose of the group is to bring regional and local expertise on the CCI sector from different perspectives in the EU Southern Neighbourhood Countries. The group will provide inputs on all steps of the ongoing mapping process of the CCI ecosystem in the EU Southern Neighbourhood Countries. Until February 2021, the group will meet virtually on a monthly basis to advance the ongoing mapping, led by EMEA, Coordinator of CREACT4MED.
Prof. Rym Ayadi, EMEA President, emphasised: "TEG CCI MED is an important achievement of the CREACT4MED project, it will be a standing group to provide practical inputs to ensure that the support actions provided by CREACT4MED target the CCI players and engage all stakeholders involved in the process."
CREACT4MED project builds on the research work conducted by the Euro-Mediterranean Economists Association (EMEA) and the Euro-Mediterranean Network for Economic Studies (EMNES) in the past years on emerging socio-economic trends, challenges and needs in order to develop a renewed vision of socio-economic development in the South Neighbourhood Countries (SNCs).
The overall objective of CREACT4MED is to enhance the role of culture and creativity as a vector for employment and resilience in the SNCs through untapping the potential of the cultural and creative industry (CCI) to create economic value, enhance growth, create decent jobs and foster social inclusion. In doing so, a special emphasis is dedicated to youth and women. The CREACT4MED project is co-funded by the European Union under the EuropeAid Programme and by the Project Partners. It is coordinated by the Euro-Mediterranean Economists Association – EMEA.