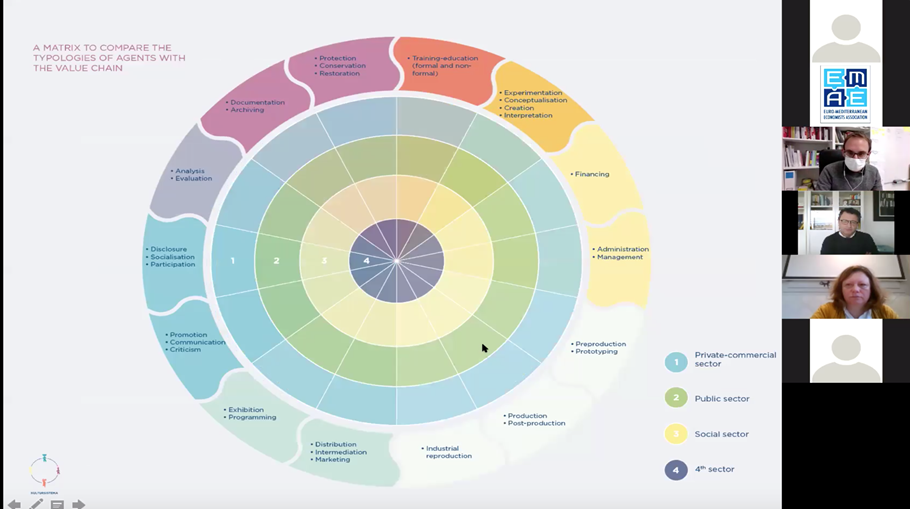 Posted on January 12, 2021
The second Technical Experts Group meeting on Cultural and Creative Industries (CCI) in the Mediterranean of the CREAD4MED project took place online on December 21st through ZOOM platform with around 30 participants. During the meeting the structure of the questionnaire to assess the skills and needs of the CCI players was presented and discussed. Furthermore, the major CCI stakeholders were identified including governmental, non-governmental, BSOs and incubators, vocational training institutions and private entities.
The concept, methodology and application of Kultursystema platform was presented as a tool for mapping the cultural and creative industries. The main goal of Kultursystema is to improve the self-awareness of CCI actors, and to highlight contribution of CCI enterprises to the value chain and their impact on the society.
CREACT4MED project builds on the research work conducted by the Euro-Mediterranean Economists Association (EMEA) and the Euro-Mediterranean Network for Economic Studies (EMNES) in the past years on emerging socio-economic trends, challenges and needs in order to develop a renewed vision of socio-economic development in the South Neighbourhood Countries (SNCs).
The overall objective of CREACT4MED is to enhance the role of culture and creativity as a vector for employment and resilience in the SNCs through untapping the potential of the cultural and creative industry (CCI) to create economic value, enhance growth, create decent jobs and foster social inclusion. In doing so, a special emphasis is dedicated to youth and women. The CREACT4MED project is co-funded by the European Union under the EuropeAid Programme and by the Project Partners. It is coordinated by the Euro-Mediterranean Economists Association – EMEA.