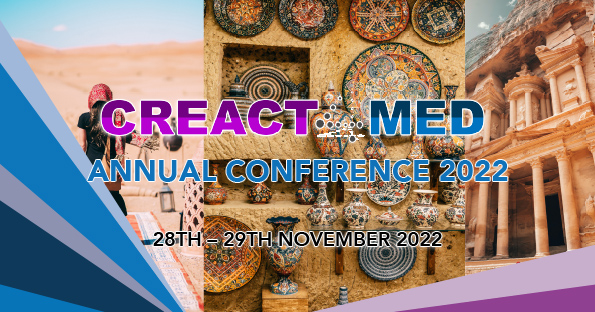 Posted on February 6, 2023
The CREACT4MED Annual Conference took place on the 28th and 29th of November 2022 at the Sant Pau Recinte Modernista and involved speakers from all over the MENA region to support cultural and creative MSMEs and individuals.
The conference was hosted by the Euro-Mediterranean Econonmists Association and co-organised by the European Institute of the Mediterranean in collaboration with CreativeForum.si, the Ministry of Foreign Affairs of the Republic of Slovenia, and MedWaves. The event took place in hybrid format, live streamed from Barcelona, Spain.
You can read the event report here.
You can also find all the videos at the CREACT4MED Youtube or view them below and at the resources page.
CREACT4MED Annual Conference 2022 – Opening by Prof. Rym Ayadi and Ambassador Veronika Stabej
CREACT4MED Annual Conference 2022 Session 1: Supporting the CCI in the Southern Mediterranean
CREACT4MED Annual Conference 2022 Session 2: Funded Projects
CREACT4MED Annual Conference 2022 Session 3: CCI programmes, identifying and bridging the gaps
CREACT4MED Annual Conference 2022: Supporting innovative development of creative and cultural hubs
CREACT4MED Annual Conference 2022: Closing of Day 1
CREACT4MED Annual Conference 2022 Day 2 Welcome address
CREACT4MED Annual Conference 2022 Keynote Address – Seda Röder
CREACT4MED Annual Conference 2022: Special Guest Hannah Drake
CREACT4MED Annual Conference 2022 Session 5 Financial Schemes and Perspectives for CCI