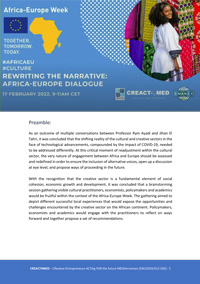 Posted on March 28, 2022
The Euro-Mediterranean Economists Association (EMEA) successfully organised the session "Rewriting the Narrative: Africa-Europe Dialogue" as part of the Culture Track of Africa-Europe Week, on 17 February 2022. The event allowed talented creatives to share their experiences, obstacles, ideas and vision with a panel of high-level policy-makers, academics and financial actors.
The event was moderated by Ms. Jihan El-Tahri – General Director of the Berlin based documentary support institution DOX BOX. Jihan is a multi-award-winning film director, writer, visual artist and producer. She has been a member of The Academy (Oscars) since 2017 and is currently on the selection committee of the Locarno International Film Festival.
Download