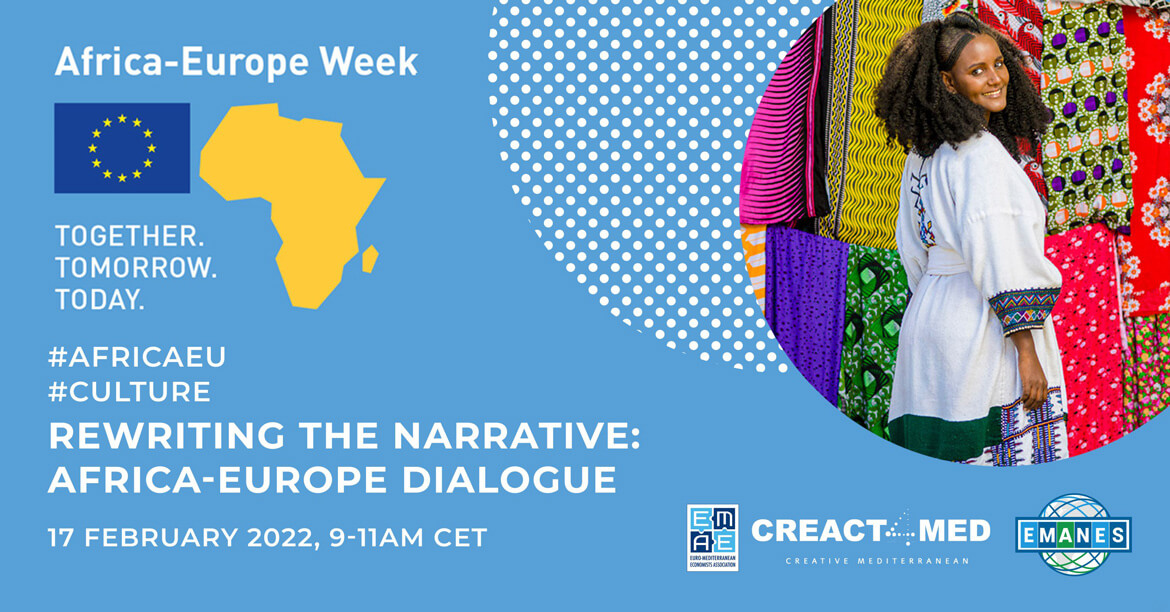 Posted on February 10, 2022
We are happy to announce that the Euro-Mediterranean Economists Association (EMEA) will be actively participating in the Africa-Europe Week organised alongside the EU-African Union Summit in Brussels this month. EMEA will organise the event "Rewriting the Narrative: Africa-Europe Dialogue", on 17 February 2022, 09-11am CET, as part of the week's Culture Track.
The event will give the chance for talented creatives to share their experiences, obstacles, ideas and vision with a panel of high-level policy-makers, academics and financial actors. We aim to initiate meaningful debate on how to address the real challenges facing culture and creativity the region, how to make European-African partnership a reality, and how to take a resilient and transformative approach to inclusive and sustainable development anchored in creativity and cultural diversity.
Expected outcomes:
Identification of main obstacles and opportunities facing cultural and creative industries (CCI) in the Euro-Mediterranean region and Africa based on dialogue with key actors within the ecosystem. 

Discussion of policy solutions to facilitate development of the CCI.

Enhanced synergy between African and European CCI stakeholders.

Increased sustainability and interconnectivity of artistic initiatives/projects, entrepreneurs, NGOs, start-ups and MSMEs.
Session participants
Moderator
Ms. Jihan El-Tahri

– General Director of the Berlin based documentary support institution DOX BOX. Jihan is a multi-award-winning film director, writer, visual artist and producer. She has been a member of The Academy (Oscars) since 2017 and is currently on the selection committee of the Locarno International Film Festival.
Panelists
Mr. Kofi Adomakoh

– Kofi

has over 25 years of banking experience within Africa, 15 years of which have been at executive management levels. In 2020 he was appointed Managing Director of the Ghana Commercial Bank (GCB).

Mr. Kunle Afolayan

– Award-winning Nollywood actor, film-maker, movie producer and director. He is the CEO/founder of Kunle Afolayan Productions Television (KAPTv), and Golden Effects Pictures.

Prof. Rym Ayadi

– Founder and President of the Euro–Mediterranean Economists Association (EMEA). Prof. Ayadi is the Director of the CREACT4MED project and Director of the EU-Mediterranean and African Network for Economic Studies (EMANES).

Ms. Nagla Bahr

– Managing Director of the Credit Guarantee Company (CGC) in Egypt since 2015, and chairwoman of the Euro-Mediterranean Guarantee Network (EMGN).

Mr. Moubarak Lo

– Former Special Advisor to the Prime Minister, Senegal. President of the Emergence Institute, specializing in economic and statistical studies and strategic planning and Director General of the Economic Foresight Bureau.

Prof. Pier Luigi Sacco

– Senior Advisor to the OECD Center for Entrepreneurship, SMEs, Regions, and Cities, Associate Researcher at CNR-ISPC, Naples, Professor of Cultural Economics, University of Chieti-Pescara, and Senior Researcher at the metaLAB (at) Harvard. Prof. Sacco is the Special Adviser of the European Commissioner for Education and Culture.
Creative/Entrepreneurs
Ms. Dineo Seshee Bopape

– South African multimedia artist. Using experimental video montages, sound, found objects, photographs and dense sculptural installations, her artwork "engages with powerful socio-political notions of memory, narration and representation."

Ms. Mane Cisneros

– Founder and director of the African Film Festival of Tarifa (FCAT). She created Cinenomada and Mobile Entertainment, two devices aimed at reinforcing the dissemination of African cinema.

Ms. Angèle Diabang

– Screenwriter, director and film producer from Senegal. She runs the production company Karoninka which is credited with over a dozen films.

Ms. Najlaa El-Ageli

– London-based Libyan architect with over twenty years of experience in the profession, founder of Noon Arts Projects. Collaborating with various cultural foundations and galleries, she has curated over 16 projects and successfully shed light on the current Libyan cultural and artistic scene.

Mr. Youssef Mechmech

– Product Designer with extensive experience on both sides of the Mediterranean. Founder of Design Tounsi.

Ms. Shahdan Safwan

– Founder of Patchouli Home, an Egyptian start-up brand and Online Concept Store of colorful home linens, artistic handicrafts with trendy designs and boho-chic home accents.

Anna Soler-Pont

– Founder of Pontas Literary & Film Agency (1992). She has represented internationally writers from the five continents, with a focus on women writers from Africa and Asia.
For more information, please download the agenda and concept note of the event
To register please visit https://eu.eventscloud.com/ereg/newreg.php?eventid=200236924 and choose to register as a participant
Africa-Europe Week will take place from 14 to 18 February 2022, offering five days of debates, conferences, and cultural events to discuss ideas and best practices to shape the future of the partnership binding the two continents in all its forms, ahead of the 6th European Union – African Union Summit in Brussels. The Week's programme will bring together people from across the EU and Africa, both online and in-person, to discuss the strategic priorities and future perspectives of a more robust and people-centred Africa-EU partnership, which will bring added value and concrete benefits for all. For more information, please visit https://ec.europa.eu/international-partnerships/africa-europe-week_en 
CREACT4MED aims to boost entrepreneurship and job creation for youth and women through the cultural and creative industries in the Southern Neighborhood of the European Union. The project is co-funded by the European Union under the EuropeAid Programme and by the Project Partners, led by the Euro-Mediterranean Economists Association (EMEA).
The Euro-Mediterranean Economists Association (EMEA) is a Barcelona-based regional think-tank that serves as a leading independent and innovative policy research institution; a forum for debate on the political and socio-economic reforms in Mediterranean and Africa; and promoter of actions and initiatives that fulfil objectives of sustainability, inclusiveness, regional integration and prosperity.