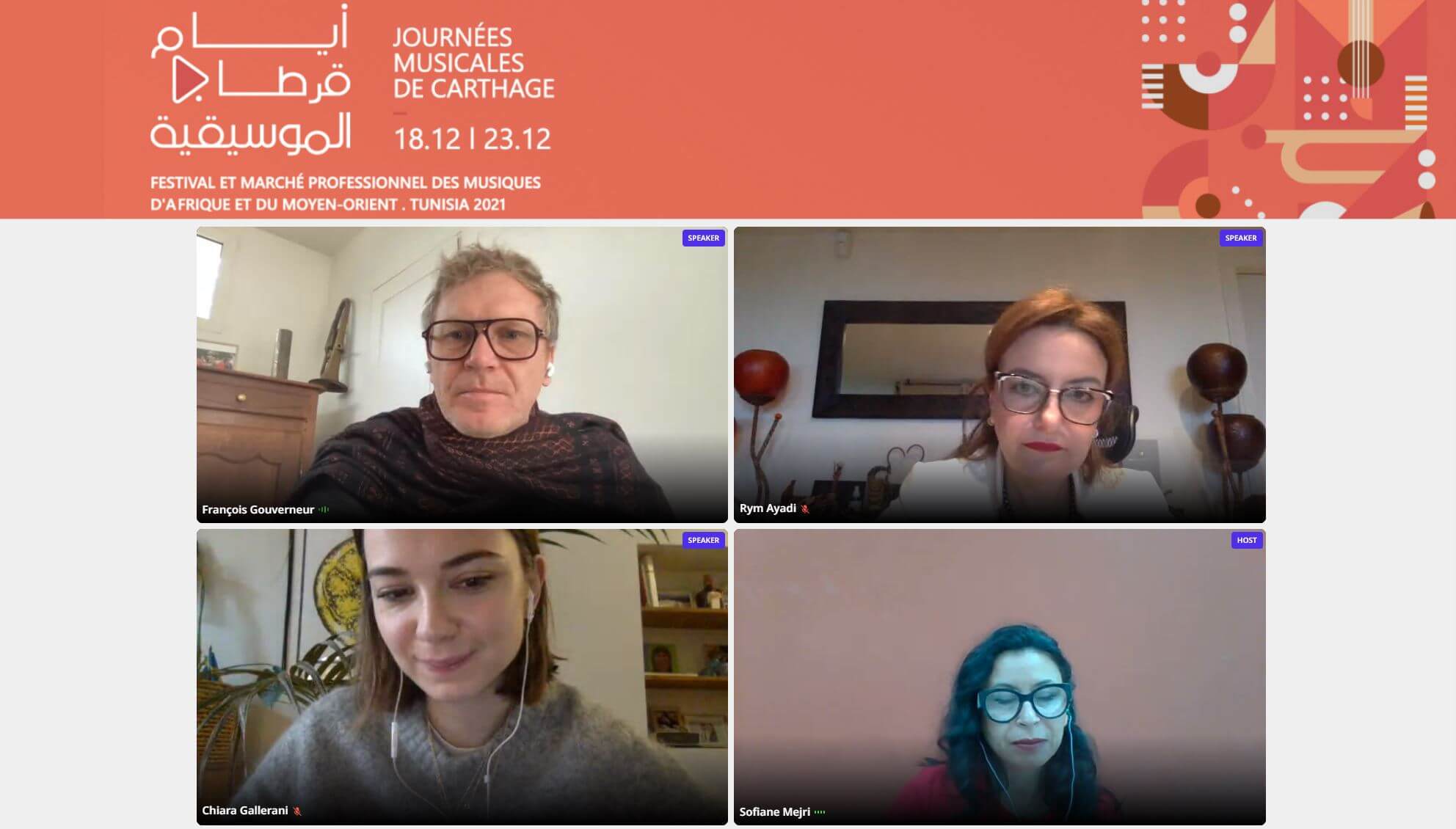 Posted on December 23, 2021
The President of the Euro-Mediterranean Economists Association – EMEA, Prof. Rym Ayadi participated at the panel discussion "Internationalisation of Music: opportunities and challenges: which took place online as part of Journées Musicales de Carthage – JMC 2021 music festival on 22 December 2021.
The discussion was moderated by Sofiane Mejri, Coordinator, Culture Funding Watchm and included François Gouverneur, Co-prod, editeur, Manager, Jupiter & Okwess, and Chiara Gallerani, Project Manager, Italia Music Export. The participants discussed about the opportunities for export and support programs for internationalisation of music, and the challenges such programs may be facing.
Prof. Ayadi presented the CREACT4MED – Creative Mediterranean project and its vison and proposed that Creative Mediterranean can team up with JMC to enhance visibility of young talents in music that wish to co-create with others and internationalise their creative production.
The Journées Musicales de Carthage – JMC is a yearly international music festival organized by the Tunisian Ministry of Cultural Affairs. For a decade, the JMC have been playing a role of scout and springboard for the new music scene of the African continent and the Arab world. They are a showcase, a professional gathering, and a series of panels and webinars. For the 2021 edition, the festival focused on the promotion of talents, with the aim of offering better visibility to emerging artists. The JMC 2021 event presented 40 artists from 16 African and Arab countries.
EMEA coordinates CREACT4MED (CReative Entrepreneurs ACTing FOR the future MEDiterranean), an EU Project funded by the EuropeAid Programme which is focused on strengthening CCI businesses and job creation, giving support to entrepreneurs, start-ups and SMEs in particular, and targeting young people and women in the Southern Neighbourhood of the European Union.