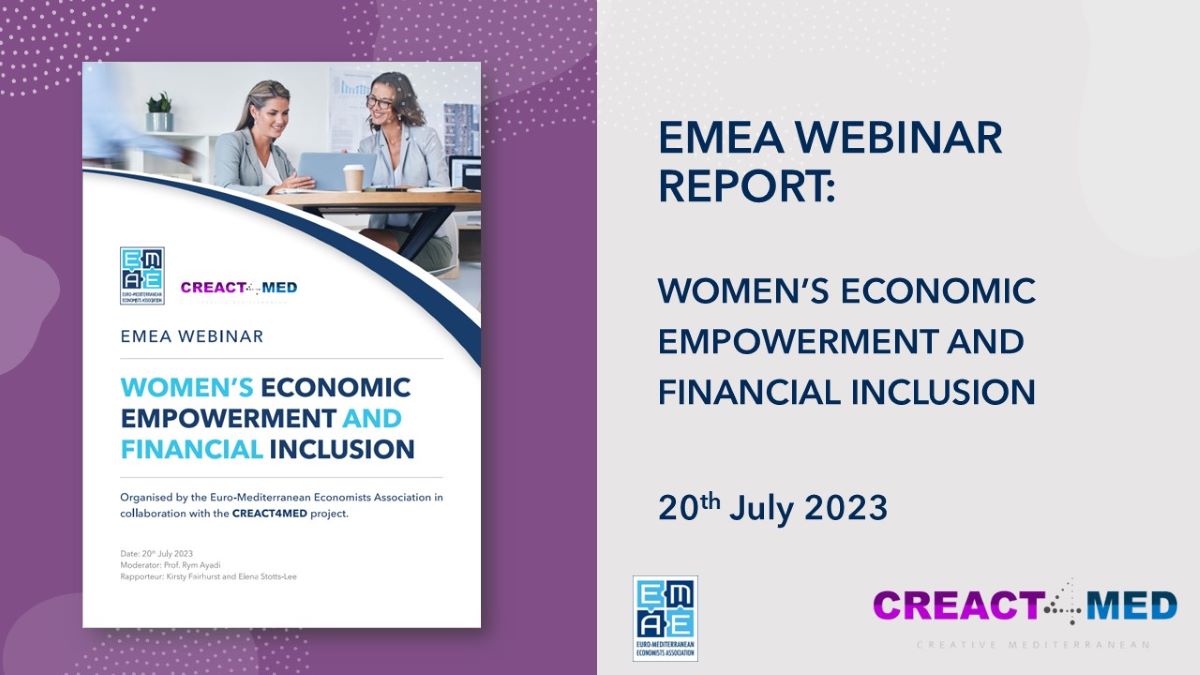 Posted on September 19, 2023
The webinar "Women's Economic and Financial Empowerment in the Mediterranean and Africa: What has been achieved and what remains to be done?" took place online on 20 July 2023 with the purpose to assess achievements, take stock of barriers and explore opportunities, innovative approaches, best practices, and policy recommendations to advance women's economic empowerment with a focus on the Mediterranean and Africa.
The webinar was moderated by Prof. Rym Ayadi, President and Founder, Euro-Mediterranean Economists Association (EMEA) and Director of the CREACT4MED project with the following speakers:
Yeganeh Forouheshfar, Researcher at the Euro-Mediterranean Economists Association (EMEA)
Christelle Comair, AIWF Young Arab Women Leader & Research fellow at the University of Paris-Saclay
Natalia Olson, Director of Government and Institutional Partnerships, Plug and Play Tech Centre
Kareem Hassan, Executive Director at United Nations ESCWA Technology Centre, Jordan
Omar Eldahan, Development Officer, Alfanar Venture Philanthropy, Egypt
Taryn Andersen, CEO and Co-founder, Impulse4women, Spain
CREACT4MED is a project funded by the EU through the EuropeAid Programme, and seeks to strengthen CCI ecosystems in the MENA region and unleash the full potential of CCI to create empowered and flourishing societies. It aims to support entrepreneurs, start-ups and SMEs, create jobs, and foster sustainable economic growth in the Southern Mediterranean, with a particular focus on young people and women. It is coordinated by the Euro-Mediterranean Economists Association.