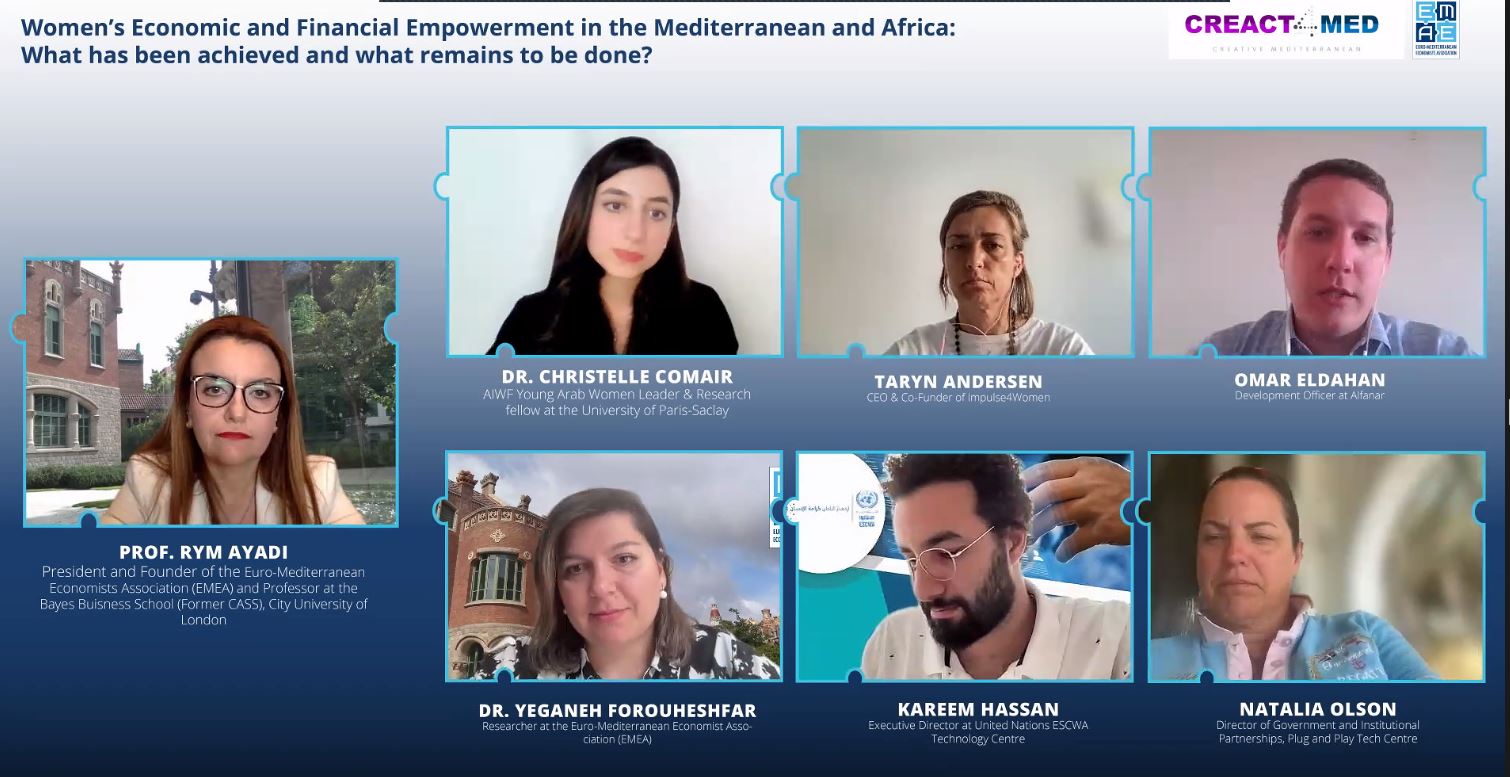 Posted on July 22, 2023
The webinar "Women's Economic and Financial Empowerment in the Mediterranean and Africa: What has been achieved and what remains to be done?" took place online on 20 July 2023 with the purpose to assess achievements, take stock of barriers and explore opportunities, innovative approaches, best practices, and policy recommendations to advance women's economic empowerment with a focus on the Mediterranean and Africa.
Closing the webinar EMEA President underlined: "Empowering women economically is not just about equity, it's about progress. As we uplift women, we uplift societies; creating a ripple effect that resonates through every corner of our global economy. Financial inclusion for women is not merely an act of justice; it is a catalyst for transformation. When we unlock the gates of finance for women, we unlock a powerful force for innovation, resilience, and growth in our global economy."
Gender equality and women's empowerment are crucial elements for achieving sustainable and inclusive economic development and it is the fifth United Nations Sustainable Development Goals (SDGs) calling for urgent action by all countries. Despite progress in recent years, women continue to face significant disparities in economic opportunities, financial inclusion, and access to resources. Addressing these challenges and promoting women's economic and financial empowerment is essential for creating a more equitable and prosperous society.
The webinar provided a platform for knowledge sharing, dialogue, and collaboration by gathering international experts, practitioners, and stakeholders from diverse backgrounds and for encouraging collaboration among various stakeholders to drive collective action in advancing women's economic and financial empowerment.
Agenda
Moderator: Prof. Rym Ayadi, President and Founder, Euro-Mediterranean Economists Association (EMEA)
Speakers:
Yeganeh Forouheshfar, Researcher at the Euro-Mediterranean Economists Association (EMEA)
Christelle Comair, AIWF Young Arab Women Leader & Research fellow at the University of Paris-Saclay
Natalia Olson, Director of Government and Institutional Partnerships, Plug and Play Tech Centre
Kareem Hassan, Executive Director at United Nations ESCWA Technology Centre, Jordan
Omar Eldahan, Development Officer, Alfanar Venture Philanthropy, Egypt
Taryn Andersen, CEO and Co-founder, Impulse4women, Spain