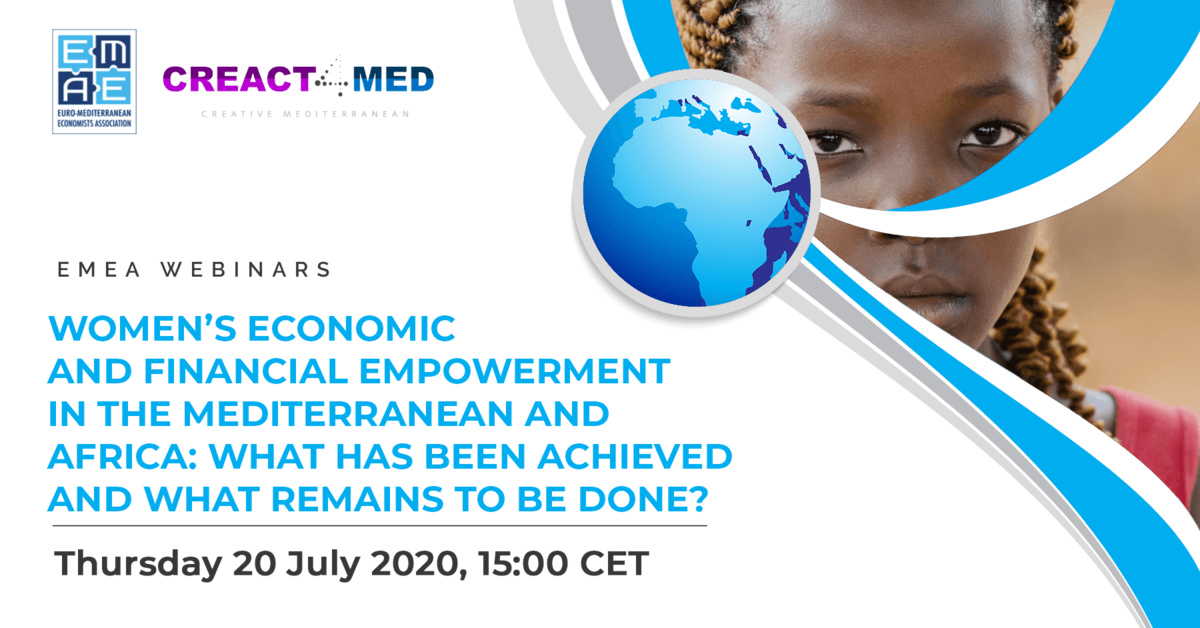 EMEA Webinar "Women's Economic and Financial Empowerment in the Mediterranean and Africa: What has been achieved and what remains to be done?"
Gender equality and women's empowerment are crucial elements for achieving sustainable and inclusive economic development and it is the fifth United Nations Sustainable Development Goals (SDGs) calling for urgent action by all countries. Despite progress in recent years, women continue to face significant disparities in economic opportunities, financial inclusion, and access to resources. The global average female labour force participation rate is less than 50% while for men this figure is above 75% (ILO statistics). In the case of financial inclusion, women's account ownership has risen sharply from the global average of 65% in 2017 to 74% in 2021 and although the gender gap persists, it is gradually shrinking over time (the difference in account ownership was 7P.P. in 2017 and 4P.P. in 2017, World Bank). The interplay between economic inclusion and financial inclusion is undeniable, and gender dynamics act as barriers for women in both areas. Many commercial banks tend to prioritise men and formal businesses, neglecting the large and growing proportion of women in the informal economy.
Addressing these challenges and promoting women's economic and financial empowerment is essential for creating a more equitable and prosperous society. Promoting women's economic and financial empowerment requires a fundamental multi-faceted approach. It involves creating an enabling environment that fosters gender-responsive policies, legal frameworks and supportive institutions. It also necessitates rethinking societal norms and attitudes towards gender roles and stereotypes to achieve gender equality. Furthermore, enhancing women's access to education, vocational training, entrepreneurship support, and financial services are prerequisites to economic and financial empowerment and independence.
This webinar aims to assess achievements, take stock of barriers and explore opportunities, innovative approaches, best practices, and policy recommendations to advance women's economic empowerment with a focus on the Mediterranean and Africa.
This webinar provides a platform for knowledge sharing, dialogue, and collaboration by gathering international experts, practitioners, and stakeholders from diverse backgrounds and for encouraging collaboration among various stakeholders to drive collective action in advancing women's economic and financial empowerment.
The webinar is organised by the Euro-Mediterranean Economists Association (EMEA) and will take place on Thursday 20 July at 15:00 CET on Zoom.
Register here to join the webinar