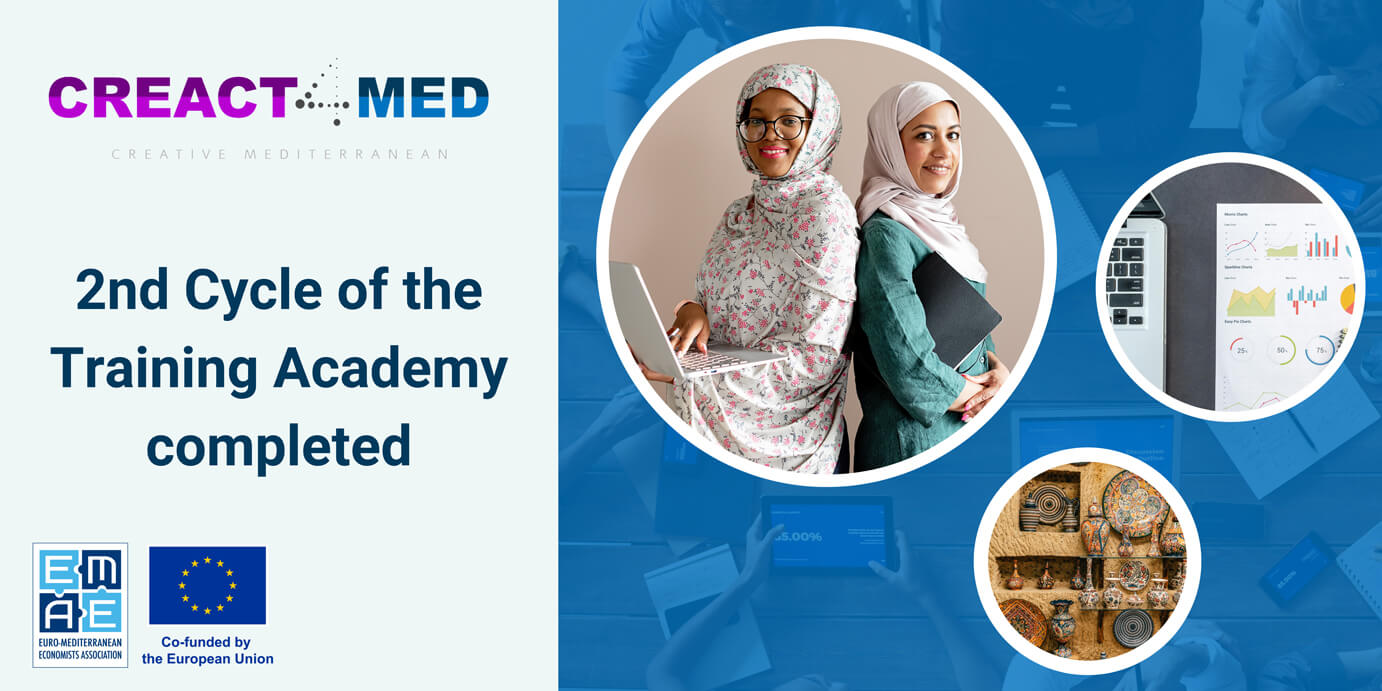 Posted on November 16, 2023
Launching on the 14th September, the CREACT4MED Training Academy began its live sessions spanning a total of 7 modules. Each interactive live workshop consisted of 2 hours of crucial content relating to entrepreneurship in the cultural and creative industries. We received over 300 applications of interest to participate in this second cycle and 320 were accepted to the free programme.
The first session was led by Ouafa Belgacem, CEO of Culture Funding Watch in Tunisia on the 14th September. She covered the first three modules discussing CCI Sector Insights, Business Basics Module and Ideation. The basics of business and entrepreneurship were introduced, exploring the characteristics of entrepreneurs and different types of entrepreneurship in the CCI sector. It also covered the stages of business development and encouraged participants to identify entrepreneurial opportunities.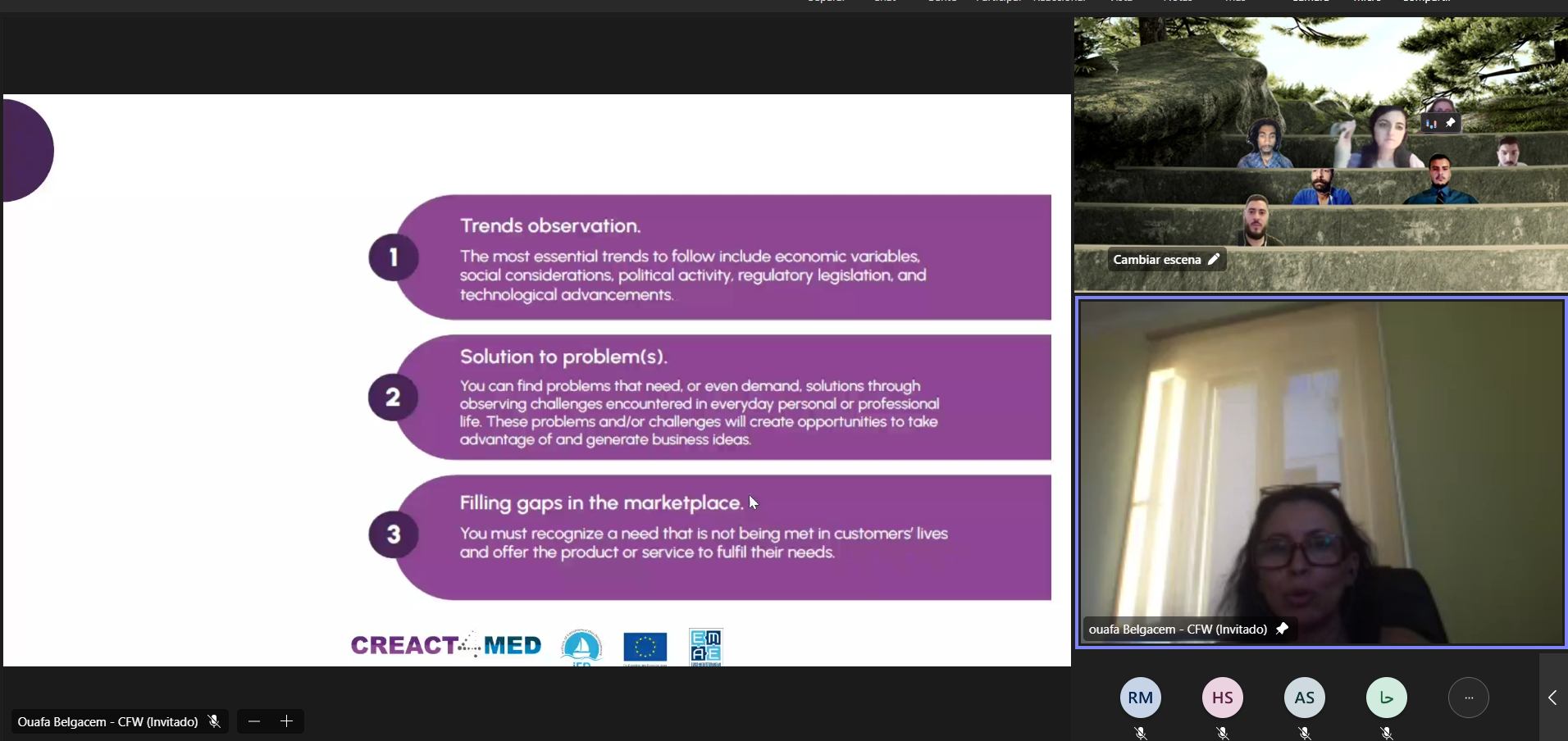 On 21st September, Nadia Mansour, Associate Research Fellow at the World Economic Forum, gave the session on Concept Design & Prototyping. The participants were introduced to the Business Model Canvas, a key tool for designing a business concept. They explored topics like value proposition, and key activities, key resources, and key partners were highlighted. Moreover, they were introduced to the topic of Minimum Viable Product (MVP) version. The session emphasized the importance of prototyping and mapping out essential elements of a business model.
Following that, Sara Hammoud, Business Development Consultant, covered the module Company Formation. She explained the process of starting a business, especially within the CCI sector, with a focus on Southern Mediterranean countries. She also discussed business models, ethical and legal considerations, financial basics, cost structures, revenue streams, and funding options.
Providing key insights into marketing, the academy hosted Neda Kharoub, Business Consultant and Co-founder of TTi. She explored the fundamentals of marketing and its application within the CCI sector, introducing concepts like customer segmentation, customer relationships, channel management, marketing strategy, and tactics.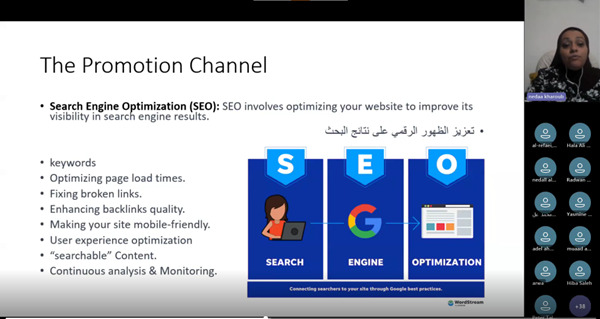 The final session on 12th October focused on preparing participants to pitch their business ideas effectively, and was led by Abdelsamee Abouelhamd, Capacity Building and Project Management Consultant. He provided practical information on developing a business pitch and elevator pitch. The session aimed to equip aspiring entrepreneurs in the CCI sector with the skills and knowledge needed to confidently present their business concepts.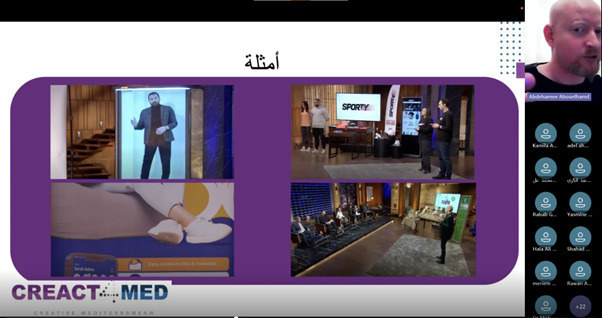 The participants had until the 11th November to assimilate all this knowledge and complete the online modules. Available online are 8 modules, plus a bonus module on grant management. In order to ensure full accessibility and participation, the course was delivered in Arabic.
Those that have successfully completed the training will receive a certificate of participation. Thank you to all the trainers and participants!
The CREACT4MED Training Academy was led by project partner iED – Institute of Entrepreneurship Development.