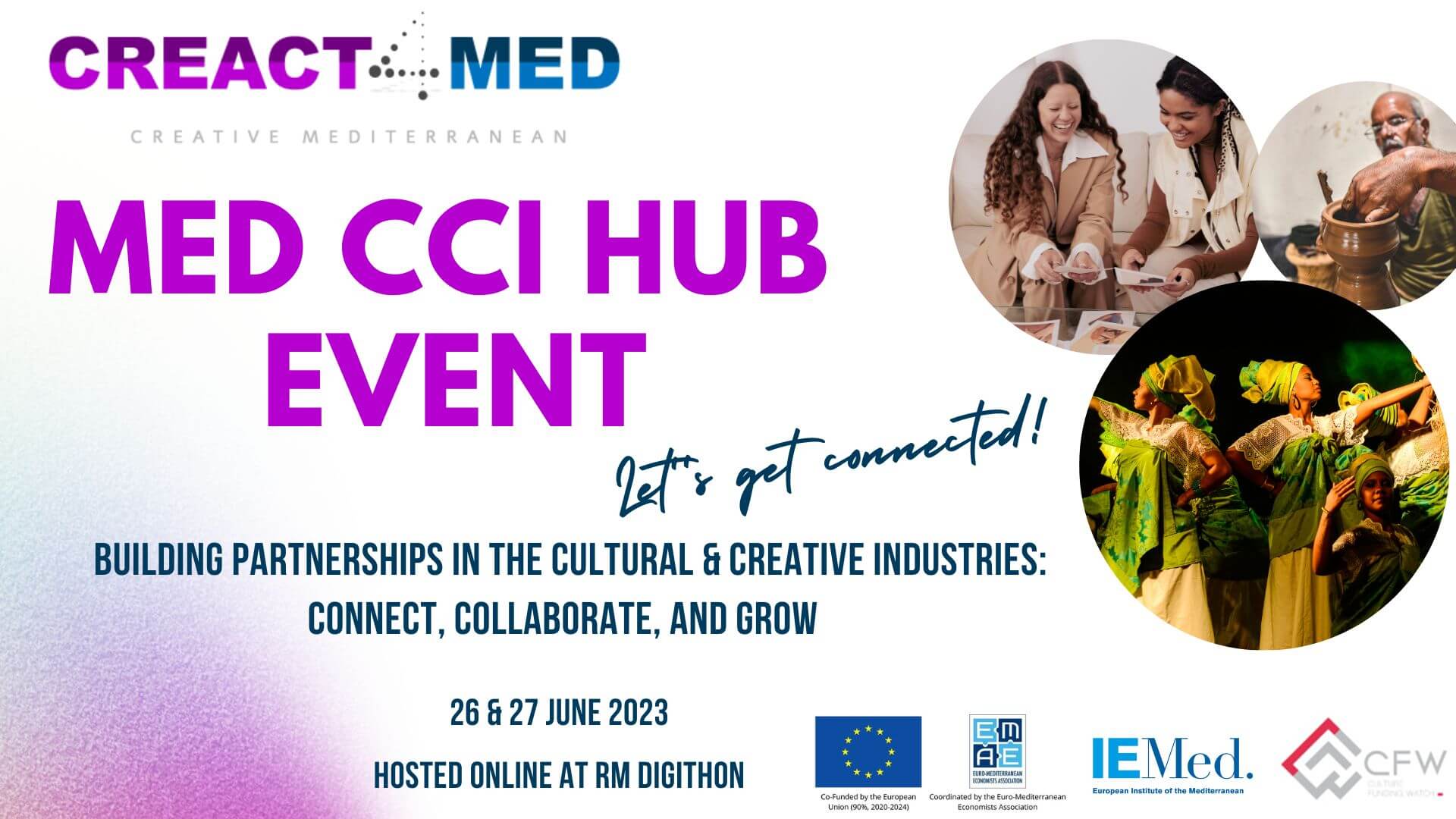 CREACT4MED announces MED CCI Hub Event
CREACT4MED is holding the next Med CCI Hub Event, organised by the European Institute of the Mediterranean– IEMed and the Euro-Mediterranean Economists Association – EMEA, along with Culture Funding Watch on the June 26th and 27th via the online platform RM Digithon.
The MED CCI Hub aims to facilitate the exchange of ideas and opportunities among the different CCI stakeholders of the Mediterranean region.
This event will provide a space for dialogue where experts, and practitioners, along with other stakeholders and cultural and creative actors, will discuss and identify the best ways to create a productive and sustainable environment for the development of cultural and creative entrepreneurs & industries with the aim of supporting the dynamisation of the community, the engagement of new players and the generation of new connections and opportunities for members. The event will include speed networking, workshops, roundtable discussions, and CCI-specific seminars.
Register here: https://forms.office.com/e/mzK20QC4Hp
CREACT4MED aims to boost entrepreneurship and job creation for youth and women through the cultural and creative industries in the Southern Neighborhood of the European Union. The project is co-funded by the European Union under the EuropeAid Programme and by the Project Partners, led by the Euro-Mediterranean Economists Association (EMEA).
The Euro-Mediterranean Economists Association (EMEA) is a Barcelona-based regional think-tank that serves as a leading independent and innovative policy research institution; a forum for debate on the political and socio-economic reforms in Mediterranean and Africa; and promoter of actions and initiatives that fulfil objectives of sustainability, inclusiveness, regional integration and prosperity.